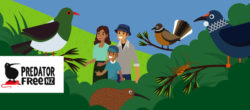 Predator Free New Zealand
New Zealand has the highest rate of threatened species in the world. Around 81% of our birds, 88% of our reptiles and 72% of our freshwater fish are endangered.
Predator Free NZ is a private charitable organisation established to encourage, support and connect New Zealanders in their efforts to control and eradicate introduced predators including rats, possums, and mustelids so our native species' populations can increase in our lifetime.